Spinning Hub - Innovation
Have you had a problem with a car being stuck in park or with no power?
The EZ Roller-Spinner is a universal wheel that provides a unique one of a kind mobility solution for standard cars or electronic vehicles when the brakes freeze or the vehicle has no power. It is easy to use, bolts onto the vehicle's hub in minutes and the disabled car can be pushed or pulled into the shop or onto a tow truck. We have two universal wheels that provides the solution to move most 4, 5, and 6 lug vehicles and our wheels work on AWD, FWD and RWD vehicles. It replaces dolly's or two step spinning hubs and works great outside on inclines, gravel, uneven pavement. There are no extra parts required and the EZ Roller-Spinner uses factory nuts and bolts. Experience for yourself why the EZ Roller-Spinner can now be found in tens of thousands of shops around the world!
see more
Vehicles Missing Tires or Wheels
The EZ Roller-Spinner The world's strongest and most durable universal wheel is the answer!
Works great in all terrains including uneven pavement, gravel, grass or dirt and can be driven into most paint booths and onto frame machines. Our super strong Roller wheel is capable of supporting vehicles whose hubs are bent positive or negative camber of up to 30 degrees.
see more
2 in 1
The EZ Roller-Spinner is two products in one
The EZ Roller-Spinner universal wheel is a drivable Roller wheel when the bolts securing the steel center to the wheel frame are in. When the bolts are removed (bolts out) and the spinner ring is installed, it transforms into a spinner wheel in just 30 seconds, even when vertical on the car. Our wedge nut innovation attributed to the quick install.
see more
watch video
Innovation - TPE tire
TPE Super Grip Tire and Tread
The award-winning EZ Roller-Spinner is known for its unparalleled strength and durability and ease of handling. It features a tire tread that provides superior traction as the wheel navigates all terrains and surfaces, inside and outside the shop. Our customers tell us that our wheel offers the smoothest ride of any universal wheel in the market. When using as a Spinner wheel, there is no rolling resistance from bulky protruding tire ribs often found on universal wheels.
see more
INNOVATION
Spinner Rings & Wedge Nuts
EZ Wedge Nuts go into the cavities on the back of the wheel to allow for easy removal and/or reinstall of the bolts on the front side. EZ Spinner Rings hold the spinner wheel in place when mounted on the vehicle hub.
see more
ACCESSORIES
Chocks & Ramps
EZ Universal Wheels has a special chock that wraps around the EZ Roller-Spinner to stop any movement of the vehicle while the wheel is in spinner mode and also has a ramp that is helpful for when a shop requires additional height while repairing a low profile vehicle.
see more
Mobile Work Station Cart
Give your wheels a home and keep them organized.
The EZ Mobile Workstation provides the best solution. Our mobile workstation holds up to 8 EZ Roller-Spinner wheels and comes with 2 chocks and 1 organizer box to store extra nuts and bolts
see more
Fitment Guide
Confused on which size wheel to use for a specific vehicle?
Using the EZ Spare Fitment Guide App will tell you in seconds if it's a 4/5 or a 5/6. Simply type in the year, make, and model of your vehicle and you will be directed to the correct EZ Roller-Spinner!
download app (android)
download app (iOS)
see more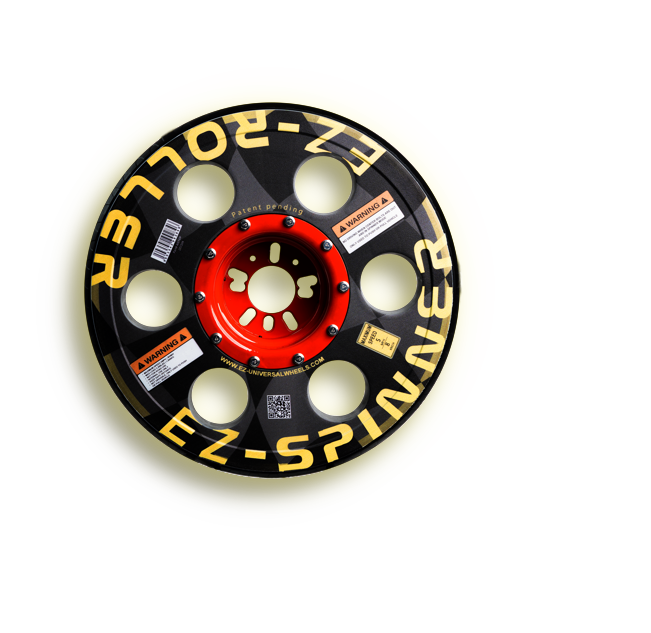 COMING SOON
26.5" O.D EZ ROLLER-SPINNER
Our new EZ Roller-Spinner that is designed for larger SUVs & trucks will be releasing soon! Wedge nuts and spinner rings will be pre-installed and the hub system is interchangable. In most cases this version of the EZ Roller-Spinner eliminates the need to use ramps when working on low profile EVs and sports cars.
see more
Solutions
Our EZ Roller-Spinner temporary wheels have become the automotive professional favorite go to solution when mobility is required.
Collision Shops
Our 2 products in 1 wheel, the EZ Roller Spinner is a unique universal wheel solution. Use as a Roller to keep cars cycling and off lifts and jack stands. Drivable at 5 mph, around shop or to the parking lot. It can also become a Spinner wheel and provide a solution to move disabled standard or electric vehicles with frozen brakes or no power from the outside to the inside, or can be used like dollies inside. The EZ Roller Spinner prepares a collision shop to work on electric vehicles, as it provides a quick and efficient solution to avoid back charging, which can occur once the vehicle is de-electrified and the hub spins. The EZ Roller-Spinner works just like a dolly and bypasses the electric brakes.
Towing and Recovery
The EZ Roller-Spinner used in the spinner mode is a must have tool for towing companies when encountering standard or electric vehicles with frozen electric brakes or no power. Our tool can eliminate dragging or shaking the vehicle off the flat bed, thus reducing liability risks. Towing companies can also use in the Roller mode as a drivable at 5 mph wheel when encountering vehicles with stolen wheels and on cinder blocks. No more high risk dragging that often results in damage to the vehicle.
Auto Dealer Service Departments
Use the EZ Roller-Spinner in the Spinner mode in the service department when encountering a standard or electric vehicle with frozen e- brakes or no power. Very viable solution to use outdoors on surfaces where dollies are unmanageable to move vehicle to the inside service drive bay for repair. Safe to use with electric pushers or forklifts. The EZ Roller-Spinner used in the spinner mode will reduce back charging risk as the vehicle's hub doesn't spin. Good solution for the reconditioning department or service department to use as a drivable roller wheel when vehicles are waiting on wheel/tire replacements. Free up valuable lift space or keep vehicles off jack stands.
Wheel Repair Companies
Used extensively by mobile operators who no longer want to risk damaging cars left on unstable jack stands or by wheel remanufacturers that provide a pick-up and delivery service. The EZ Roller Spinner will keep the collision or auto dealer customers cars cycling while the wheels are repaired. Used extensively by wheel repair operators when offering black out packages when the auto dealer won't allow new cars to sit on jack stands.
Tire Stores
The EZ Roller-Spinner multiple use solutions make this a must have tool for brick-and-mortar tire retailers that want to keep cars from tying up lifts while awaiting special order tires to arrive. Viable solution for mobile tire installers when servicing a customer with a flat tire or when a damaged wheel is needed to be sent out for repair. No longer risk leaving the car on an unstable jack stand at the customers home or office. Tire stores that repair cars will find the spinner function useful and a necessary tool as they routinely encounter cars with frozen electric brakes.
Auctions
Car auctions must keep the cars under their control cycling through the reconditioning and repair stage. Often tires and wheels are repaired or replaced, and the vehicles are left immobilized on jack stands. EZ Roller-Spinner provides options to this industry segment who utilize the drivable roller features and like how our wheel performs on dirt, gravel, grass or uneven pavement.
Restoration Shops
The EZ Roller Spinner used in the spinner mode becomes a viable solution for shops building chassis or restoring classic show cars. When in the spinner mode, its much easier to push the car or frame around the shop, as hub resistance is eliminated. Our lightweight wheel, compared to other universal wheels, makes handling and mounting a breeze. Restoration shops often use our Roller wheel when transporting the cars on trailers, instead of risking damaging expensive rims. We offer shops our wheel branded with their name imprinted.
ATV & UTV Transportation
EZ Universal Wheels has the ability to customize bolt patterns for specific ATV and UTVs to enable an alternative for the consumer when shipping or transporting these vehicles with oversized wheels and storing these vehicles in a customer's garage. Any bolt pattern can be replicated and built into our steel center hub.
Racing Industry
Unique solution for all types of race cars when transporting to and from a race or when at the race. Customized bolt patterns are available.
Car Manufacturing
The EZ Roller Spinner in the spinner mode is a viable solution for temporary wheels during the chassis design process, assembly process and defect renumeration process. The wheel bolts on in minutes and much easier to use and control than dollies.
Testimonials
As the service manager of a high volume Jeep dealership Ive been constantly inconvenienced as tow drivers drop the car with frozen e brakes outside the shop. The spinner version of the wheel has made life easier for us. The outside of the shop sits on an incline. It takes 6 men to control the dollies we've been using so my staff loves the EZ Roller-Spinner as we can now push it quickly into our work shop with only 2 guys.
Atlanta Dealership, Alpharetta GA
WOW EZ Spare? Its ingenious how one wheel was made to have both functions . We use the spinner constantly . Tow companies routinely drop off vehicles 100 yards from our workshop. Until I bought this set I had to call a tow company back over when we were ready to move it into the workshop. The BMW brand is notorious for brakes locking. Your wheels just bolt on and we use 2 guys and an electric pusher to get it into our shop. Im recommending EZ Spare to every BMW dealership in the region.
Jeff D at BMW Dealer Atlanta, GA
Guys !! How did you do this ! I admit I was skeptical . A plastic wheel !! My worries faded away after a few uses on heavy SUVs. The wheel supports the weight easily and its amazing how much traction I get moving up the ramp coming into our workshop. I think the only way to destroy the EZ Roller wheel is to run over it with a semi and Im not sure if that would do it . Thank you EZ Spare!
Jon P at Collision Specialists, Sana Ana California
I started with the other universal wheel and while your wheel is used in a similar way I for one will tell everyone your product is on steroids. Its amazing. I love how we can use your wheel as a Roller to drive around the shop or parking lot and when I encounter a car that the electric brakes are stuck all my tech has to do is remove those 10 bolts and it becomes a spinner wheel . I now have a solution that works so much better than dollys.or I don't have to call the tow company back over to pull or drag it into the shop . The other universal wheel doesn't even come close to the way your wheel is lighter, less bulky , doesn't require additional spacers or washers and Great job guys !!
Marshall T at Auto Body Pros Long Island NY
The EZ Roller-Spinner is a modern invention. My shop has been using the other universal wheel for 2 years and when I saw yours I knew instantly I had to change. First you don't have to be a power lifter to hold the wheel while sitting on the floor trying to mount it. The offset is one of the best features you built into the wheel so I don't have to buy spacers which don't work on every car . Also My techs were losing or installing them incorrectly. One time the spacer sheared off the top of the brake caliber and that cost me 1,000 to replace. as even with the spacers I had to use. I love the. EZ Roller-Spinner 10m steel center that fastens to the hub. The difference between yours and the others 3m center is beyond comparison as you know techs will over torque. Unquestionably your wheel is going to become the universal wheel of choice . Great job EZ team!
Adam M at Collision Pros, Newark NJ
Worldwide Network
EZ Universal Wheels has a worldwide network of distributors. Please contact us to locate the closest distributor to you or to inquire on becoming a master distributor for the EZ Universal product line in your country.
Contact Us
Copyright EZ Roller Spinner 2022©. All rights reserved.
Made by
fazer.tech